Printer Friendly Version
By Za on Jan 29, 2012 in Desserts, Featured, Food, Other Yummy Stuff
Birthdays are relatively simple affairs for us. No grandiose parties, no invitation cards and certainly no candles. We're not against any of these. We attend birthday parties when we're invited and enjoy celebrating these special events. Oh, but the candles, yes, we're against them. Why? Because we think it's unhygienic to eat cake laced with a sprinkle of someone's saliva and it's such a waste to have to remove delicious cream off the cake because of it.
Birthdays, for us, are family affairs. It's about spending time with the important people in your life who's going to make your special day a truly special one.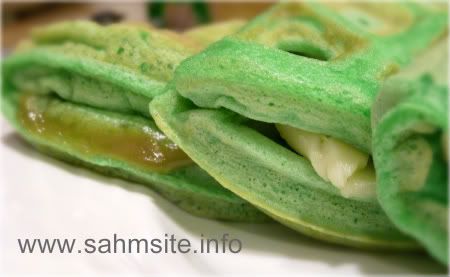 Every year, the kids get to make a wish list for their birthday and we get to choose which items on that wish list become gifts. You might think that the element of surprise is grossly missing. That is not true. There's always that element of anticipation wondering which wishes get fulfilled. And we'd rather play Santa and give you what you want then have to deal with exchanging gifts and crestfallen looks and polite "thank yous".
This year, among the toys and gadgets & gizmos that my son had on his wish list were dishes he wanted for breakfast, lunch and a very specific cake. He must miss Prima Deli a lot because 2 out of the 3 items would have been found on its menu. First up: Pandan Waffles and the cake: Fruit Delight (he even found the picture of the cake to make sure I didn't get it wrong). So while daddy saw to the rest of the wish list, mummy rolled up her sleeves and got busy.
Birthday boy was very very happy! And here's the recipe for anyone else craving for Prima Deli's Pandan Waffles. I hope it makes you just as happy to have stumbled across this recipe.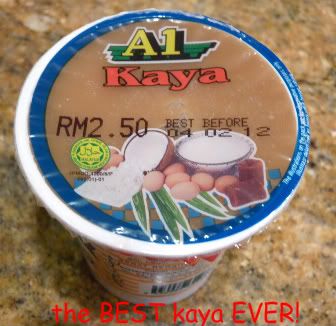 If you've only known lovely crispy waffles, you should have a go at these soft fluffy green ones. And thinking of green, this came to mind…
Dr Seus's has green eggs and ham,
I have green waffles and kaya,
Lots and lots of fuss 'bout 'em,
especially if you're from Asia.

Ingredients: (adapted from Singapore Motherhood Portal; recipe by n2inpink)
1 1/2 cups all-purpose flour
2 tsp baking powder
1/2 tsp salt
1/4 cups + 2tsp granulated sugar
4 eggs, separated
200ml coconut milk
4tbsp butter, melted
240 ml water
1 tsp pandan paste
Method:
Preheat waffle maker.
Combine flour, baking powder, sugar and salt together into a mixing bowl.

Beat egg yolks lightly. Add coconut milk and pandan paste and water . Use a whisk to mix the mixture well.

Then add melted butter and stir.

Combine the wet and dry ingredients.

In a separate clean mixing bowl, whip egg whites until stiff peaks form.

Use a spatula to fold egg whites gently into the flour mixture until well blended.

Pour the batter into the waffle maker iron. Cook to desired texture.

Serve hot with kaya, butter, peanut butter, honey, chocolate spread or a slice of cheese.