Printer Friendly Version
By Za on Oct 31, 2009 in Desserts, Featured, Food
I never figured why Malay desserts had such weird and unappetizing names. Otherwise, they were perfectly delicious, appealing and mouth watering desserts and savory sweets. Let me list a few with their translated English meaning beside it just so you know what I'm talking about. There's Kuih Bakar (Bakar can mean either baked or burnt) - how original is that?, Bantal Peluk Saloma ( Saloma's bolster), - probably named after a famous actress's BOLSTER a few decades back,  gendang kasturi (Kasturi's Drum??), kuih serimuka (the-shine-from-your-face kuih), pulut tekan (pressed glutinous rice), abuk-abuk sagu (dust from sago) and so the list goes on. It would be interesting to find out how they got their names.
So back to THE baked kuih. Rarely will I eat store bought kuih bakar because they tend to be too chewy - as if there's too much flour and not enough eggs. Or too sweet - as if someone found they had excess sugar and decided the best way to dispose of it was to dump it into the batter.  And then there were those which had so few sesame seeds on it that you wonder why they didn't altogether skip that decorative ingredient.
But my husband's aunt makes the best kuih bakar ever! It's smooth and sinking your teeth in it makes you feel like you're eating custard. All soft but not mushy. Sweet but not tooth aching sweet. The fragrance from the toasted sesame seeds and the pandan makes eating the kuih bakar almost a sensual experience. So lembut! A term one reserves to describe the perfect texture of the kuih.
Thanks to My Kitchen Snippets' recipe, I got to enjoy Kuih Bakar which was baked to perfection, even if I say so myself. Maybe next time, I should bake some for the aunt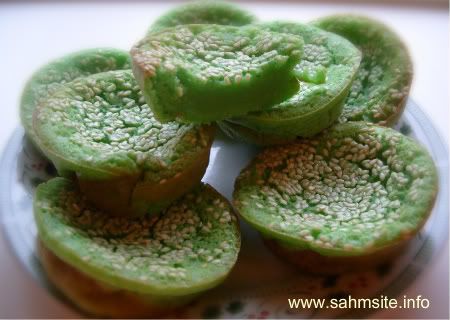 Kuih Bakar (makes 24 muffin-sized kuih)
Ingredients:
1 cup sugar
2 cups all purpose flour + 1/2 tsp salt (mix)
2 1/4 cups of coconut milk
4 large eggs
2 tbsp of melted butter
1 tsp of pandan paste + 1 cup water (mix)
sesame seeds - as much as you want
Method:
Pre-heat oven to 325F. and greased a baking pan.
Beat the eggs, then add milk, butter and pandan paste mixture. Stir until well combined.
Pour into the flour + sugar mixture and use a whisk to mix the ingredients till smooth.
Grease the muffin pan.
Pour the mixture to fill 3/4 of the muffin pan. Sprinkle with sesame seeds.

Bake for 30 minutes or until the edges are golden brown and a skewer comes out clean.

Don't they look all puffed and happy?! So easy to remove them too - they're practically saying "Take us outta here".


Remove from the pan and serve warm or at room temperature.
Tips:
The original recipe has a longer cook time because it's a whole cake. Here, it takes a shorter time to cook because they are in a muffin pan.
Muffin pans also saves you the trouble of having to cut them into pretty pieces. The actual Kuih Bakar is baked in a flower shaped mould. It's distinct shape is also a signature of the Kuih Bakar. Well…a kuih by any other shape will taste as good..*clears thorat*..or even better. *cough* *cough* Right?
Get the kids to stir the liquid ingredients, spoon the batter into the muffin pan and sprinkle the sesame seeds. They'll love it.